Pittsburgh was a DrupalCon for the ages. Talking with friends on the way home, we all agreed that this year felt more natural and "drupal" than last year in Portland (which was the first after the pandemic shutdown).
This year was special for me because Mateu Aguiló Bosch and I had just pushed Single Directory Components into Drupal core, and we were giving a session on that. My goal was to get people excited about making use of it, and also to onboard folks to the process of using it.
In addition, I had very recently started working at Agileana, and this was going to be my first time meeting the owners and my coworkers in person!
Drupal Association retreat, sightseeing and more
I arrived in Pittsburgh early for a Drupal Association (DA) Board of Directors meeting, which was held on the preceding Saturday and Sunday. These meetings left me feeling hopeful in the direction of both Drupal and the DA. The board seems fairly aligned on what needs to improve, and we were able to solidify and vote on a formal strategy (note the vote came during a public meeting Tuesday afternoon).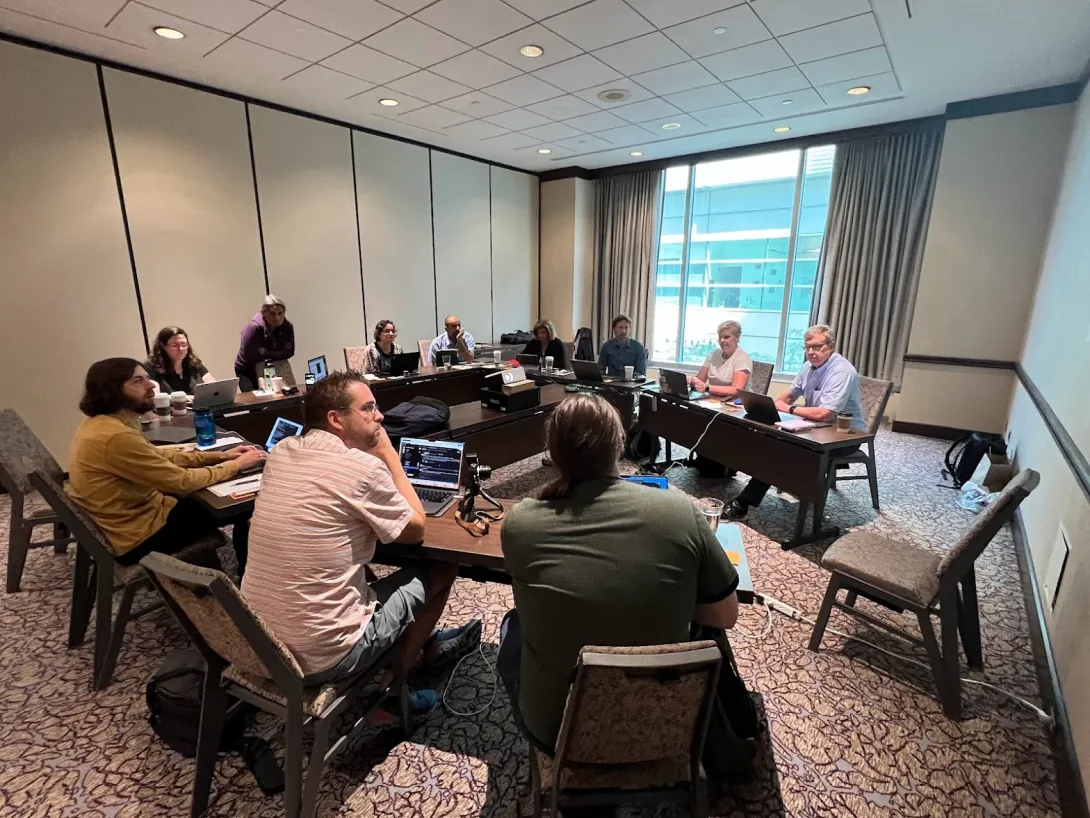 I'm particularly excited about the focus on both marketing and innovation. Drupal.org's homepage hasn't changed in many years, and we all agree it shows its age. During the meeting, we showed screenshots of the new homepage, with a hopeful timeline to get this launched by the end of the year.
As far as innovation, the DA hopes to secure funding to directly employ developers (and core committers) to work on the Drupal project. While this seems like a dramatic departure from the DA's previous stance, in reality we've been contributing to Drupal core through projects like the announcements module and collaboration with project browser. We've also been looking at other ways to empower innovation. One of the most interesting ideas (from fellow board member Nick Veenhof) is the GitLab's idea of "contribution coaches". GitLab currently employs contributor coaches to help new contributors work through their issues, and then will raise the issues to GitLab's core committers when they feel it's ready for final review. I would love the Drupal Association to be able to bring something like this to Drupal.
More information about our strategies will be published shortly on the Drupal Assocation's blog.
Late Saturday afternoon, we took off a bit early to do a bit of sightseeing within Pittsburgh. We took an impromptu walking tour of the city center, and also took the incline to the top of Mt Washington, where we were able to relax, cool off, and get some drinks. Directly afterwards, we had a wonderful meal at an Italian restaurant to continue the conversations.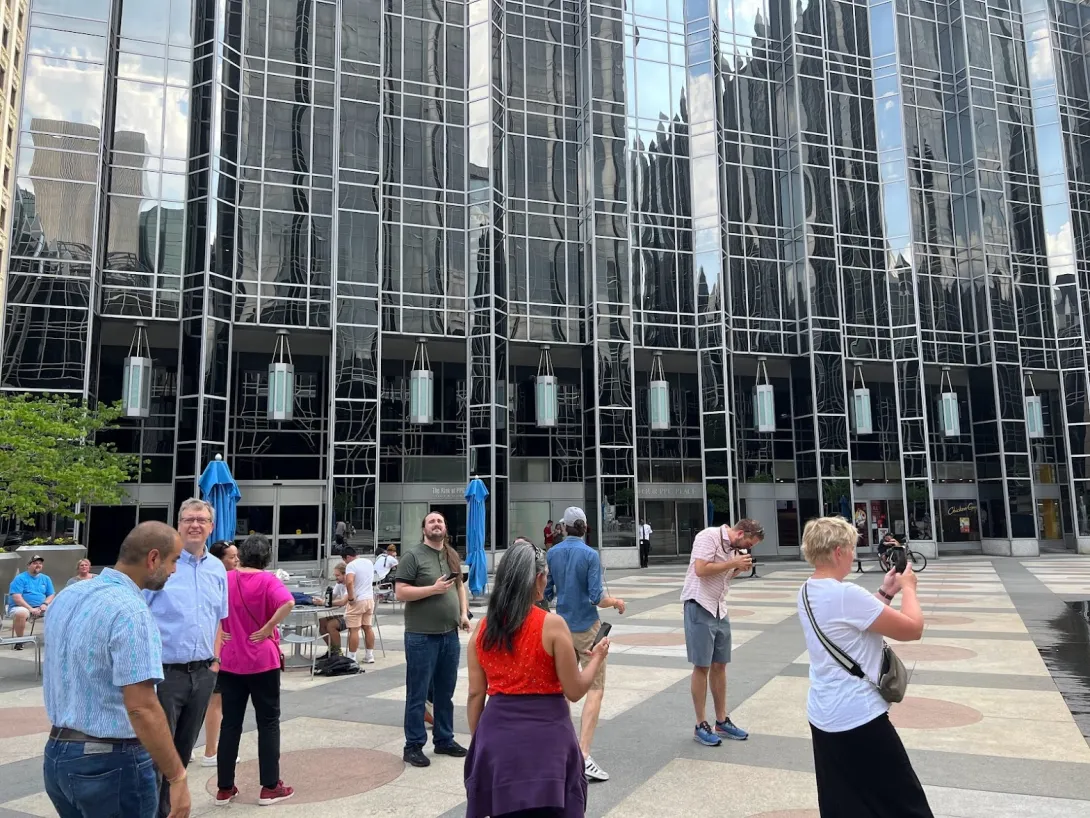 Sunday evening, the DA board and staff got together to meet and greet, and get to know one another (and introduce new employees and board members). It's always great to hang with the staff of the DA. They work extremely hard at so many things, and this provides a great way for the board to express gratitude to them.
Following the board/staff mixer, I met up with Mike Anello and a few other friends for a few extra drinks and conversations. One particular conversation that I remember is Webform maintainer Jacob Rockowitz's enthusiasm for Single Directory Components (which I recently worked really hard to help get introduced to Drupal core). Jacob is an amazing backend developer, and it was really gratifying (and surprising) to hear his excitement!
Monday: The first day of the 'Con
Monday's excitement was palpable for me. I headed to the exhibit hall excited to meet friends and also to load up on the new Summer 2023 DrupalCon fashion lineup (aka swag shirts)! I met up with both my new company and old companies including many friends at Lullabot. I also got the chance to meet core contributors Stephen Mustgrave, and Ben Mullins in person, which was super nice.
Next up, Dries Buyteart (the founder and project lead of Drupal) gave his biannual "Driesnote", which is one of the major keynotes of the conference. I'm very excited about the Drupal project's direction, which is currently to enable "ambitious site-builders". In my opinion, site-building (building and outputting complex workflows and content models through the UI) is Drupal's strength and market differentiator. I'm particularly excited about the new version 10.1 release (which will happen in a week or so) that will include many features, and niceties including Single Directory Components, which was at the top of the list on Dries's slide.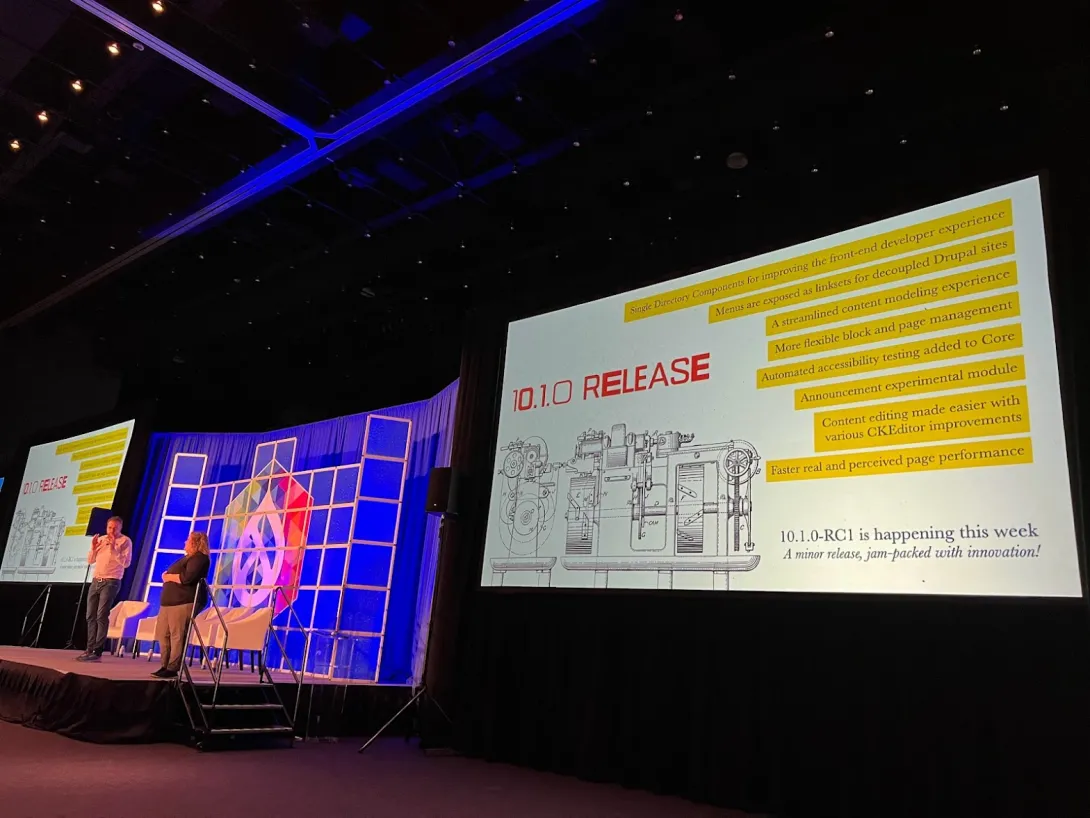 Monday afternoon I participated in a panel on How to make big things happen in Drupal. I was with Palantir owner Tiffany Farris, as well as Salsa Digital's Kristen Pol, and the panel was moderated by Acquia's Gábor Hojtsy (who did a phenomenal job). We discussed various strategies for starting and funding initiatives, as well as keeping momentum and the power of what just one person can do.
I was really excited to go to the Lullabot party on Monday night. I worked for Lullabot for over 7 years, and have many friends there, and I was also excited to meet the new 'bots. The party was held at a barcade style bar, with tons of hors d'oeuvres. I had a ton of great conversations over very many beers, and was also able to connect with colleagues from my immediate previous job, as well as some new friends from Agileana.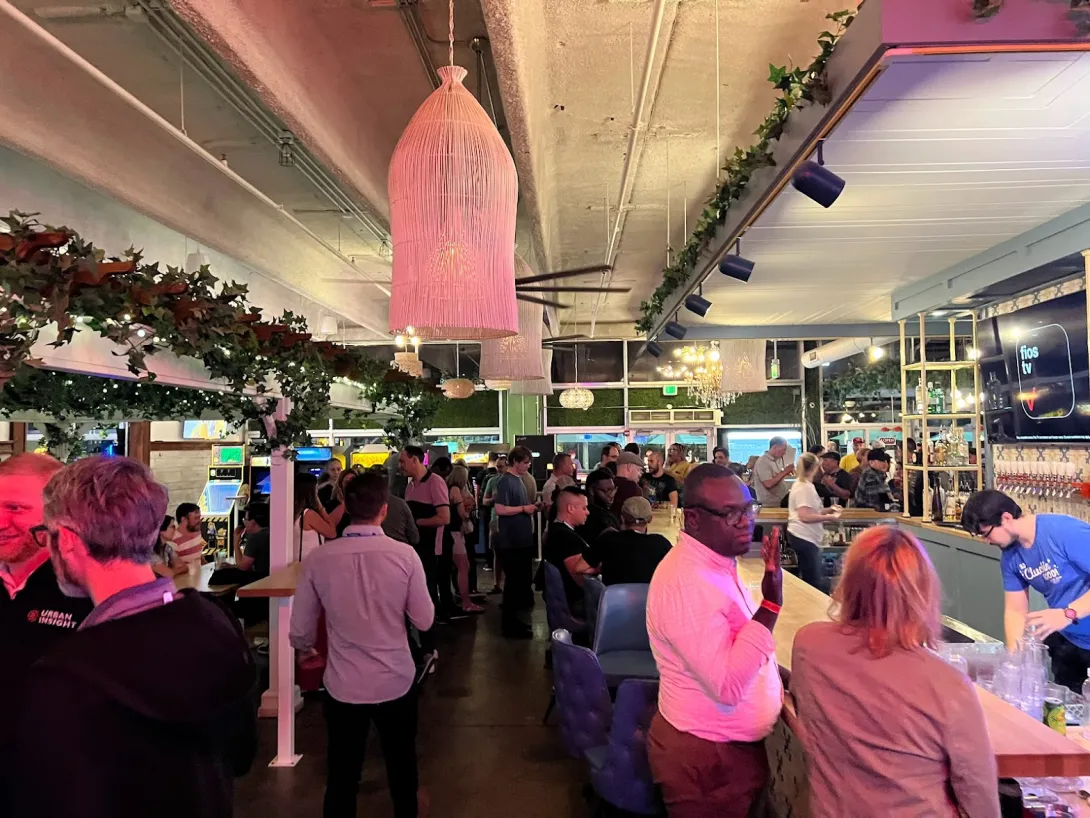 Tuesday: my big day
I woke up Tuesday morning excited but a bit tired from the previous night. I once again made my way to the exhibit floor to make sure I'm not missing out on any additional Drupal fashion, and then I made my way to the main ballroom to take part in a DA public board meeting.
All of the items that were to be voted on were discussed during the previous weekend's retreat, so there were no surprises. Of particular note was the formal adoption of the DA's strategic plan, which I'm very excited about, as well as the "Open Web Manifesto", which eloquently expresses the importance of the open web, and our commitment to it. This will be published on the Drupal Association blog shortly!
Tuesday afternoon Mateu and I gave our session about Single Directory Components (SDC) in core. The room was absolutely packed, and people were super excited about this new feature. I was really nervous about a section within the talk where I was doing "coding karaoke", where I had pre-recorded a video of me converting a component to SDC, and had to live narrate it. I probably practiced this over 20 times (including right beforehand), so when the time came, I was able to nail it!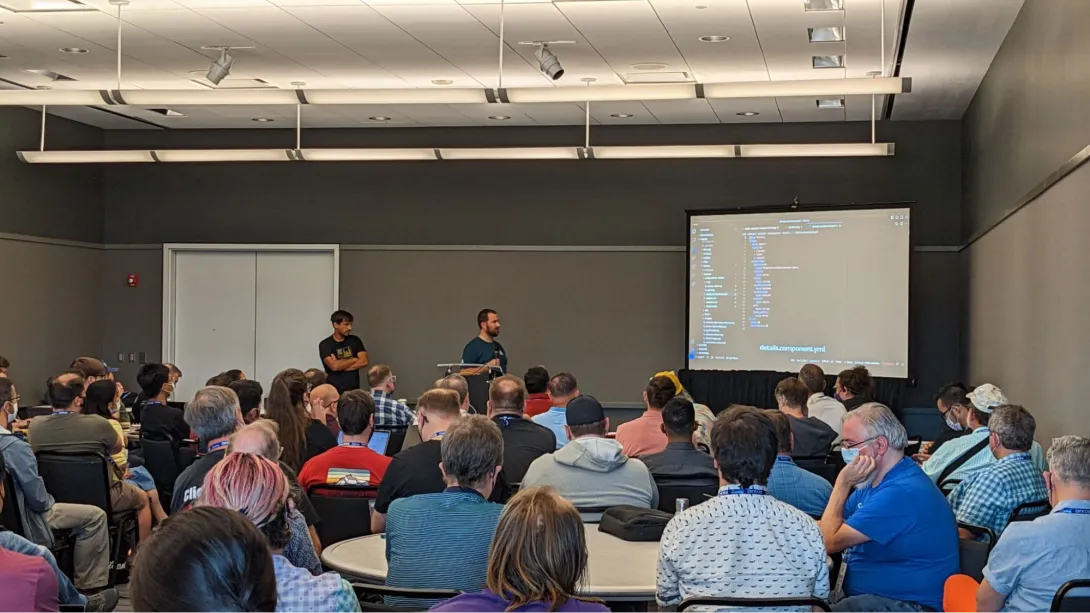 Afterwards, the audience had a ton of questions, which Mateu and I were able to answer. I'm still so excited by the interest in this. You can watch the full video below.
Following the SDC session, I met up with my coworkers from Agileana and we took a group photo. Once again, everyone on the team seems excellent (PS we are hiring!) and I can't wait to work with them more.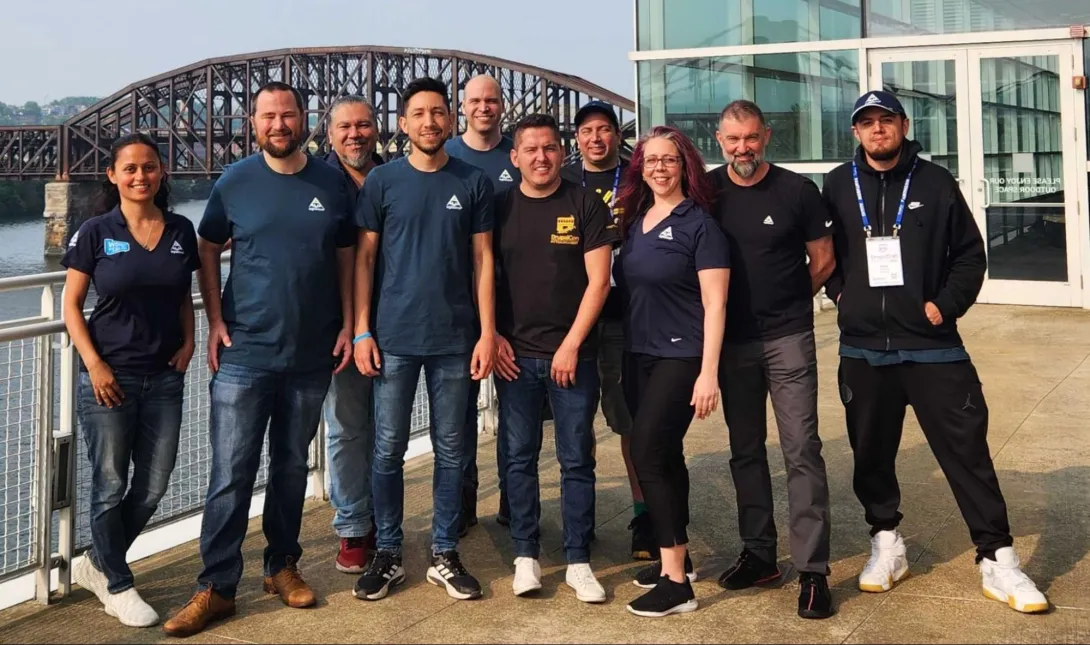 I was in no mood to drink alcohol after Monday night, but I did end up making it to the Acquia party, which was at a different bowling/arcade bar. The atmosphere was really great (at least until the music got a bit loud and made it tough to hear each other). I ended up hanging out with a bunch of Acquia DAT folks and having a ton of interesting conversations including lots of anecdotes about serendipitous Drupal moments. Afterwards I dipped out a bit early to head back to the hotel to crash.
Wednesday: Contribution day
Every DrupalCon has a contribution day, where experienced and newbie developers (and everyone else) get together to contribute code (or other) to Drupal. This year's contribution day was scheduled in the middle of the 'Con, which I think is fantastic. It gives newbies a chance to get in-person guidance from experienced devs and also create personal relationships. Many longtime Drupal contributors got their start within days like this.
The day started off with the Initiatives Keynote (once again moderated by Gábor), with a list of people giving short 5 minute presentations on what amazing things they're working on in Drupal core. The keynote ended with the best (in my humble opinion) initiative, which was Mateu presenting on SDC. He did a fantastic job and was super enthusiastic. I'm also very excited about Cristina Chumillas's upcoming work to simplify and update the admin interface and toolbar. Lullabot is sponsoring her to do this full time for 6 months!
Image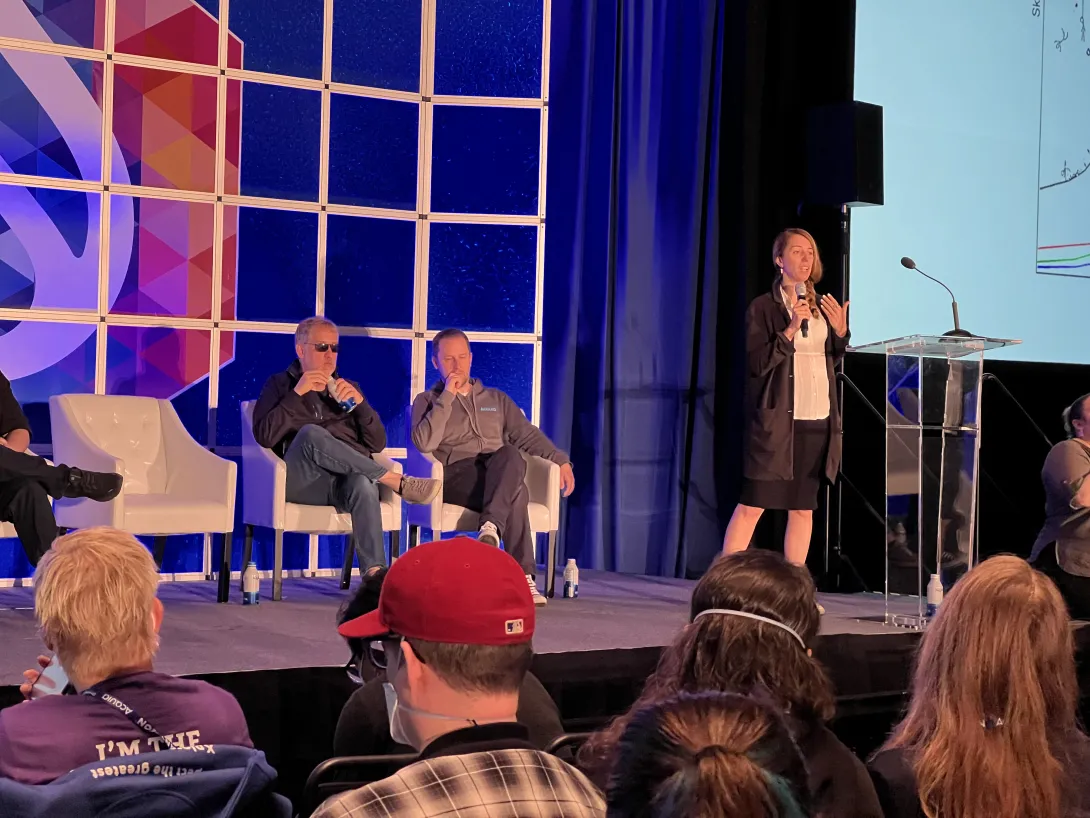 However, probably the best part of this keynote was from Ted Bowman. Ted is an Acquia developer who is working on automatic updates. After giving his section of the keynote on automatic updates, he was holding an aluminum water bottle horizontally in front of his face and it looked like he was shotgunning a beer on stage. This provided some pretty funny jokes through the rest of the conference.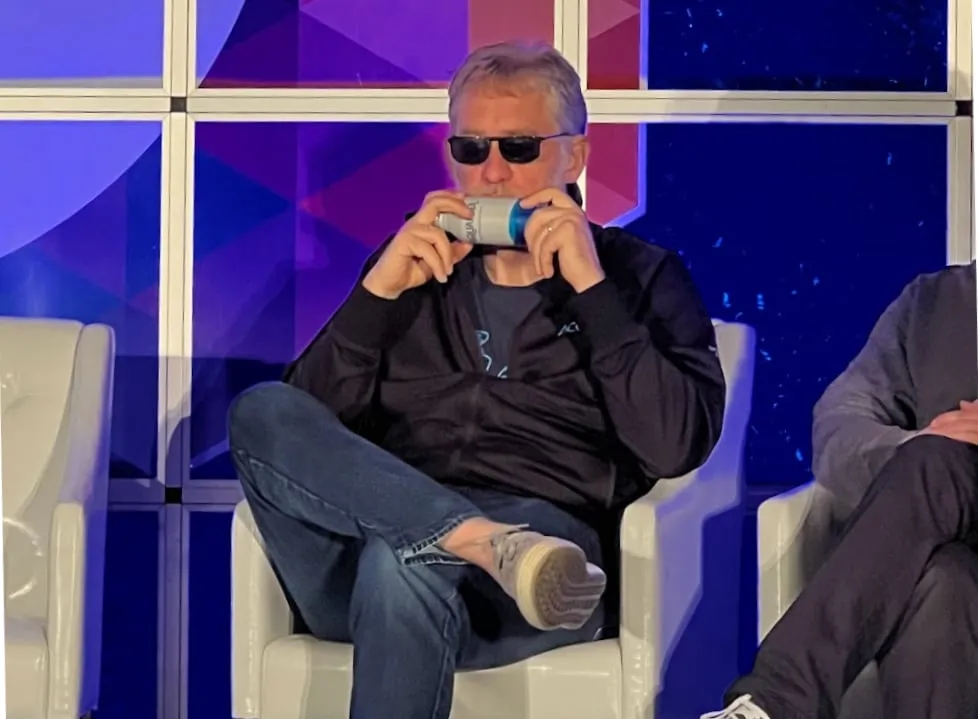 After the contribution keynote, everyone made our way up to the general contribution room, where we planned to work on so many things. When I showed up, there were already several tables of people ready to get started converting various core components to SDC! I was excited and kind of relieved. Honestly, I would have been a bit crushed if not that many people were as enthusiastic about it as I was.
I started creating various issues on Drupal.org and handing them out. We had several folks helping people get their local environments set up, and I also helped people troubleshoot various issues while converting components. I still have lots to review in the issue queue!
I also met up with Redfin's Chris Wells from the Project Browser team, who needed input on themability for the project browser. Project browser is built using Svelte.js, and has a build step, so it doesn't have the same opportunities that Drupal's traditional Render API gives people to modify the markup. My suggestion was to go all in on CSS custom properties so themers could easily override styles. In addition, I suggested adding prefix and suffix elements within each component, where people could inject arbitrary markup during the Svelte lifecycle if needed.
Wednesday evening, I met up with a large group of people and (after following Aubry Sambor around the block) we settled on an amazing taco place right near the hotel. Once again, we had lots of laughs, good conversations, and continued insights into Drupal.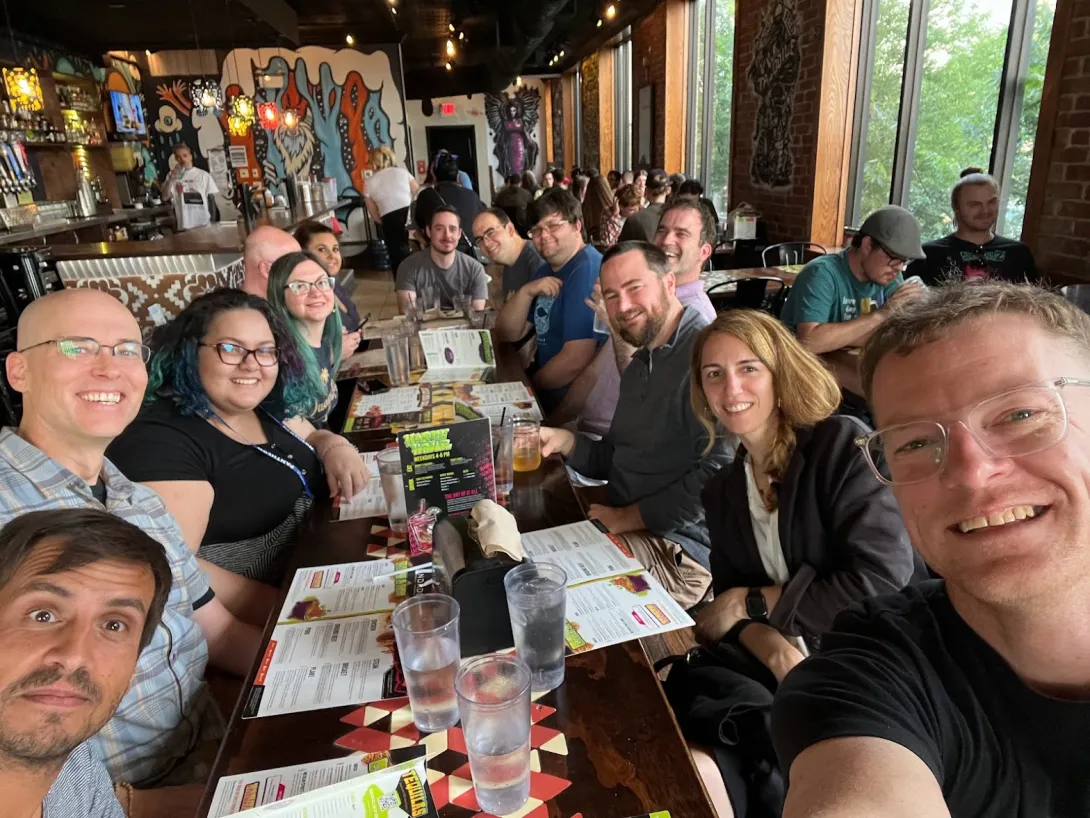 After the tacos, we walked a bit to a brewpub and continued with a number of folks from the Acquia DAT team (and friends) including Tim and Megh Plunkett, Wim Leers, Dave Reid, Lauri Eskola, Gábor Hojtsy, Adam G-H, Ben Mullins and more (pretty sure I'm missing some here).
Thursday: more contrib and the Government Summit
I woke up a bit early (5:30am) and wasn't able to get back to sleep, so I headed over to the general contribution room a bit early, and started reviewing code. It was so great to see people contribute, and several of the contributions are practically ready to go.
Late Thursday morning, I went down to the Government Summit, where folks that work in either federal or state governments can talk about how they're using Drupal and share war stories.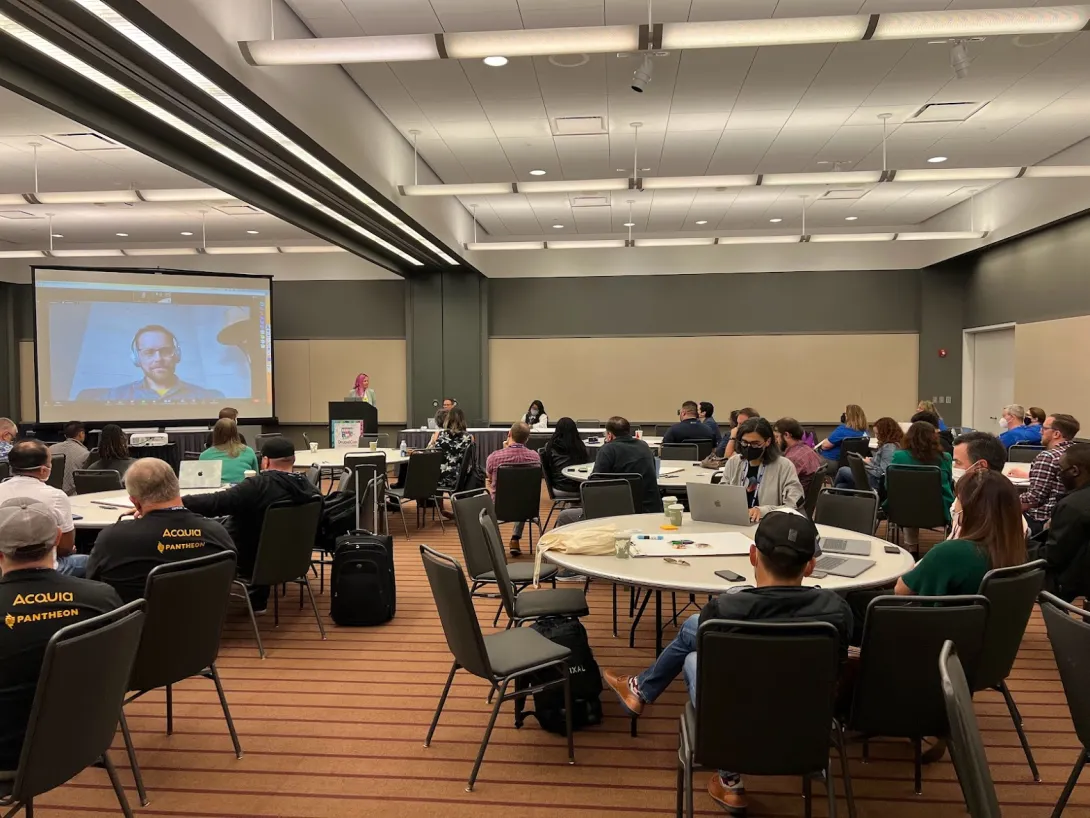 The highlight of this (for me) was from my former colleagues from Bixal (who my previous employer Vaultes was partnered with), who gave an amazing talk on the replatforming of SBA.gov on Drupal 9. The previous site was a mix of decoupled Drupal 8, standard Drupal 7, and a number of standalone JavaScript Apps.
The title of their session was, Let Drupal be Drupal: SBA.gov's Conscious Recoupling, and discussed how the previous decoupled architecture was overly complex, expensive, and hard to work with. The new site is a standard Drupal 9 site that practically any developer could get up to speed with quickly.
My favorite part of the session was an anecdote that our lead dev John Shortess gave where he described a cup holder that his wife's Volkswagen car had that was overly complex. You pressed a button on the dash, which popped open the cupholder, and springs folded out and made rooms for the cups. He said this cup holder broke three times within the car's initial warranty period. Meanwhile, his car was a Toyota who's cupholders were simple and reliable holes in the center console. He likened the decoupled version of the site to the brittle VW cup holder, and the new standard site to the Toyota cup holder.
Thursday evening, I once again met up with Mike Anello and several friends (including Sara Cartee-Kennedy,  AmyJune, and several folks from Bounteous) to have drinks and food at a restaurant. It was great hanging out and seeing everyone once again, but by this time my brain was fried from a full week of hanging out, teaching, and learning.
A highlight of the night was walking to the restaurant with core committer and my new work colleague Jess (aka xjm). It was great to hear her perspectives on core development, and have an authentic conversation. Another highlight was talking about our unhealthy American food compared to standard European meals with Wim Leers (who's from the Belgium). We had lots of laughs.
Friday morning and going home
As I write this blog on my flight to Gainesville, it's great to reflect just how lucky I am to be able to participate in such a wonderful community made up of real life wonderful people. After leaving my hotel room, I ran into lots of friends in the lobby of my hotel. I gave and received lots of hugs, and shared a Lyft to the airport with friends from Lullabot. We all had breakfast and coffee, as well as more great discussions and laughs at the airport.
Although I'm exhausted from the conference, I'm getting home to my family feeling excited, hopeful, and positive. It was an amazing event and thank you to everyone who made it happen.