I traveled to Chicago for MidCamp this past weekend. MidCamp is the midwest United States' premier DrupalCamp, and has been happening since 2014. This was my very first time to MidCamp, and my first time to Chicago since DrupalCon in 2011.
I presented on How Drupal 10 will make you fall in love with Drupal theming, plus my girlfriend, Robin, was able to fly up from Florida to do some touristy-type stuff later in the week.
Getting to Chicago
After an easy flight, I met up with (DrupalCamp Asheville organizer) April Sides at Chicago O'Hare airport to travel into the city together. She wanted to take the train, but I talked her into taking a taxi instead. Of course, we hit horrible stop-and-go traffic on the way in, and every time a train zoomed by, April gave me a stink eye! Finally we arrived at hour hotels and after unloading, we walked over to a social event for some friends, beers, and food. It was sooo great seeing my Drupal friends and hanging out!
Although other people were going out, II turned in fairly early so I could wake up all refreshed.
Wednesday: First day of MidCamp!
Wednesday morning was the first day of the camp. The walk to the DePaul University Student Center was about two miles or so. It was super cold (about 45ºF / 8ºC)… just a slight difference from my home in Gainesville, FL where it was in the neighborhood of 80ºF / 27ºC.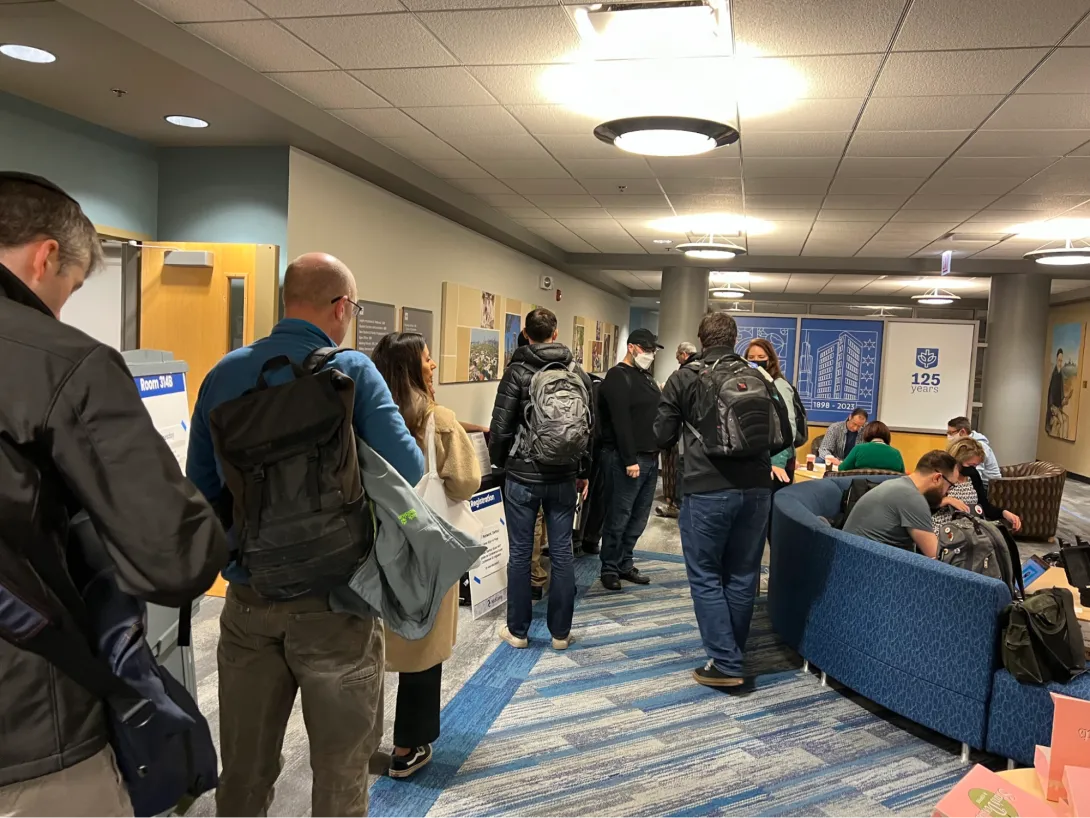 The conference venue was ideal for a smaller conference like MidCamp. There was a lobby in front of the various breakout rooms with lots of seats and couches for the "hallway track" where I relaxed, caught up with old friends, and made new ones.
I ended up meeting up with Matt Glaman, and talked him into helping to fix one of my worst pet peeves in Drupal front-end development – the fact that in order to see changes after modifying your Twig templates, you need to edit both development.services.yml and settings.php. The fact that this needs to be done (and finding the documentation) is frequently a first #DrupalWTF to new Drupal front-end devs.
The plan is to move these settings into a series of checkboxes within Drupal's admin interface. This is will be a game changer for new front-end developers coming into Drupal! Knowing the need to edit those files, what to put in them is a real challenge for those who just want to start writing markup.
Wednesday night: Baseball and a beer snake!
Wednesday night was epic. I had worked with Avi Schwab to organize a group to go to a Cubs (a professional baseball team) game that night. We had about 40 people sign up. The Cubs play at Wrigley Field, which is one of the most historic ballparks in Major League Baseball. It was first opened in 1914, and I was pumped to go.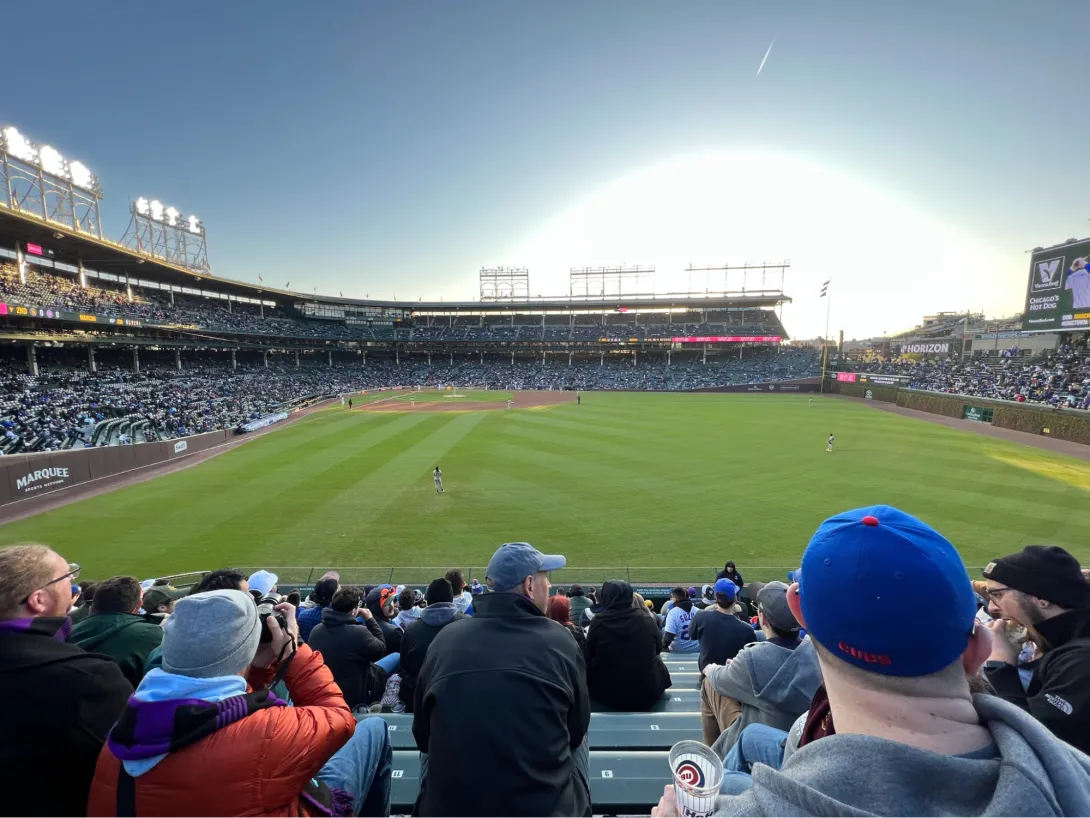 Before coming up, my brother told me about a new tradition that fans have been doing called a beer snake, where fans stack up hundreds of beer cups and create a "snake" throughout the stands. I vowed to make this happen, and I even talked about this during the conference to get people on board.
The snake started out small, with just two cups. But toward the 8th inning, it started growing! I started stacking the cups until I couldn't handle them by myself anymore.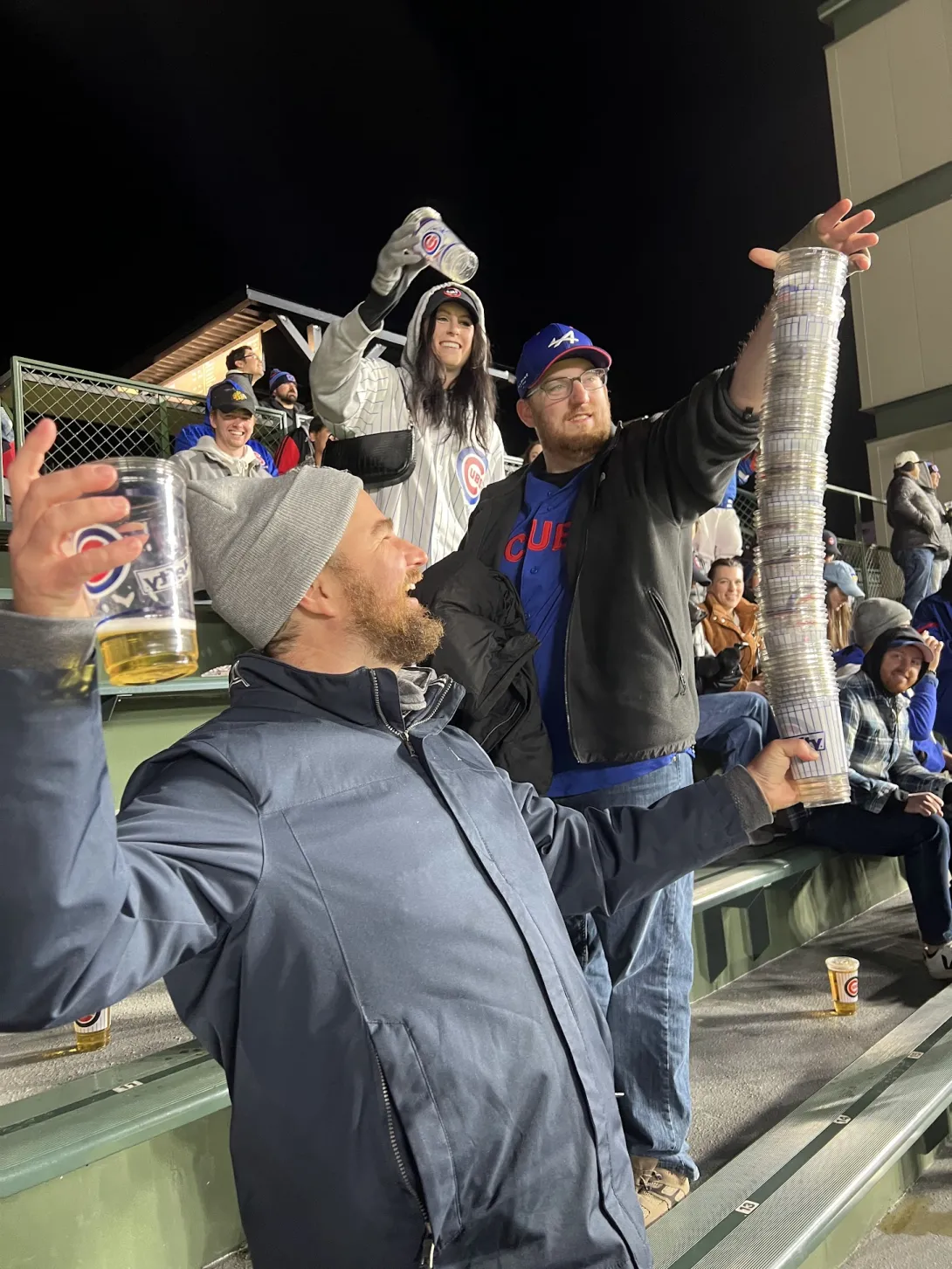 Mark Casias and Avi then took the other end and we started making our way through the bleachers, collecting massive amounts of cups on the way. I was having the time of my life! Eventually the snake became too ungainly for two people to handle. Mark Casias and some random woman started helping out carrying the snake and security started getting involved and told us we couldn't do it (we just ignored them).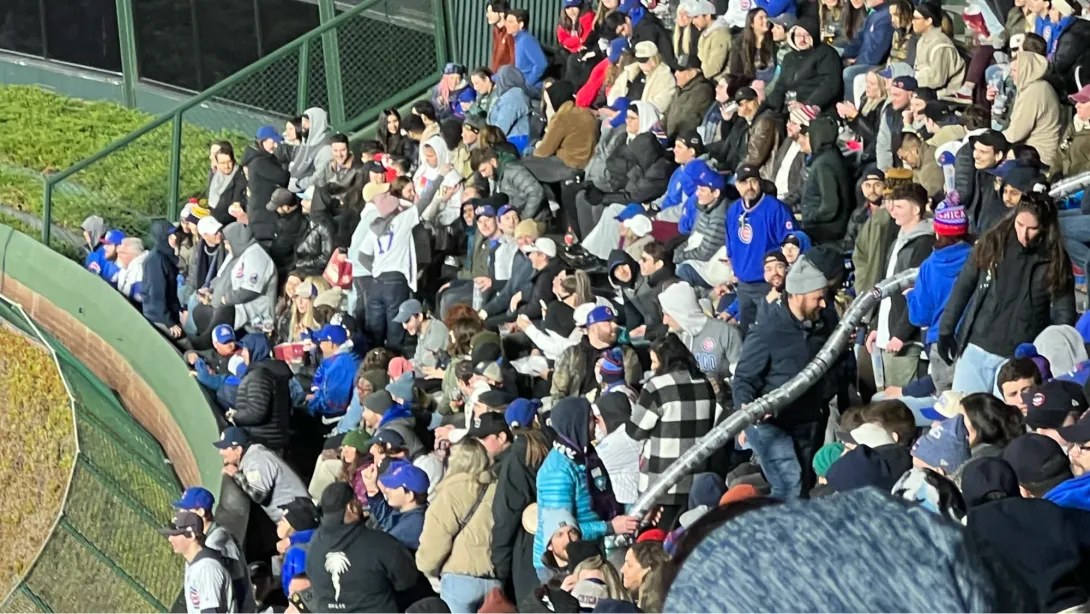 Eventually the snake started getting too large, so we decided to take it out of the stands and maybe find a recycling bin. We eventually found a table and started stacking the cups (making a castle). This was all going pretty good until the woman decided to karate kick the castle causing all the cups to fall over the ledge onto the ground below. We decided it would be a good time to quickly dip out, and we all took off running back to our seats.
The game wrapped up with the Cubs losing 5 to 3. Afterward we met up with JD Flynn and some friends at a Karaoke bar. I didn't stay out late though, because my presentation was scheduled for the next morning.
Thursday: Day 2 of MidCamp + tulips!
I woke up feeling pretty good Thursday morning and took a rental scooter to the conference venue. My session was first thing at 9:15am, and I had a room full of people wanting to learn about the front-end goodies coming to Drupal 10.
The session was mostly a reprisal of the session that Lauri Eskola and I gave at DrupalCon Prague. The few changes included adding more information about Single Directory Components (SDC), which had recently been committed to Drupal core. I recently converted a component within the Florida DrupalCamp site to SDC, so I had a real-world example to show.
The session went well, and there were lots of questions on SDC – as well as other things going into core.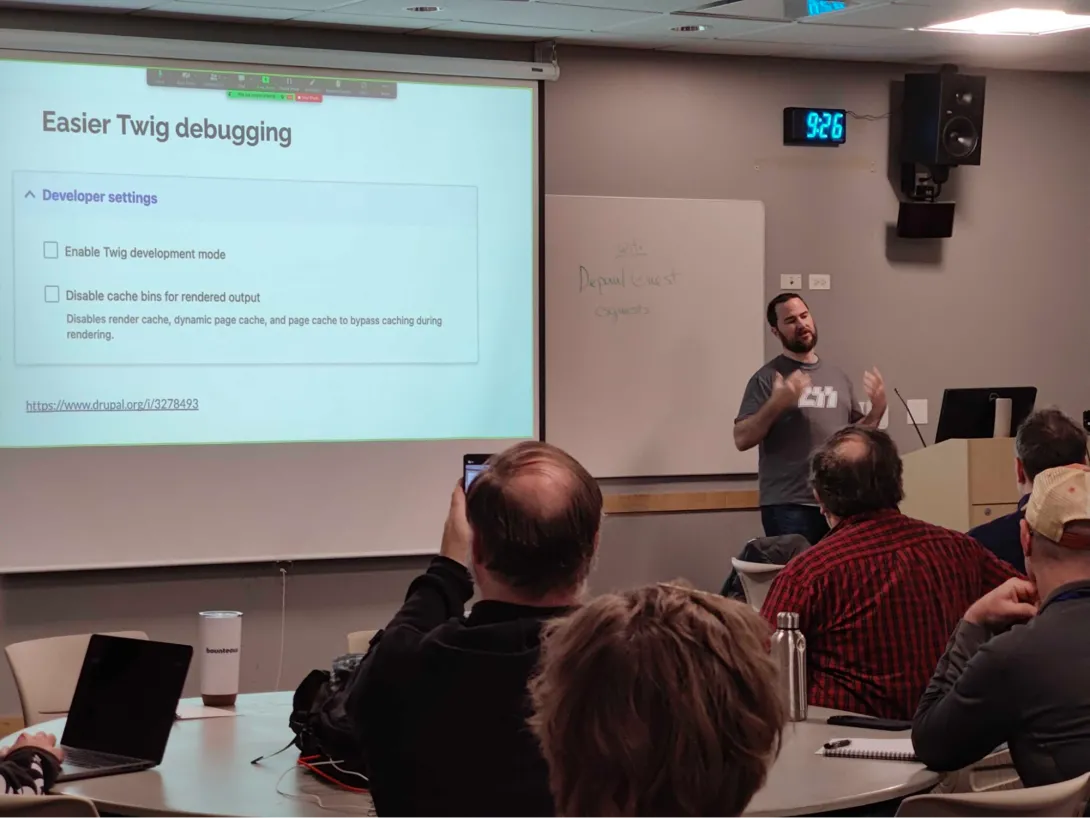 I hung around through lunch and continued working with Matt on the issue to move Twig debug settings into the UI. I was able to talk with a number of people in the hallway (including Benji Fisher) to work on some of the wording for the UI.
I eventually had to leave early to get back to my hotel. My girlfriend Robin was flying up to meet me so we could spend a big-city weekend together. The weather was beautiful (albeit very chilly), but we walked over to Lake Michigan and around a lot of historic neighborhoods in our area (called Lakeview). Lakeview is beautiful, with lots of cool brownstone architecture houses, and there was an amazing number of tulips growing throughout. Tulips are my favorite flower, so I was really into it and took tons of photos.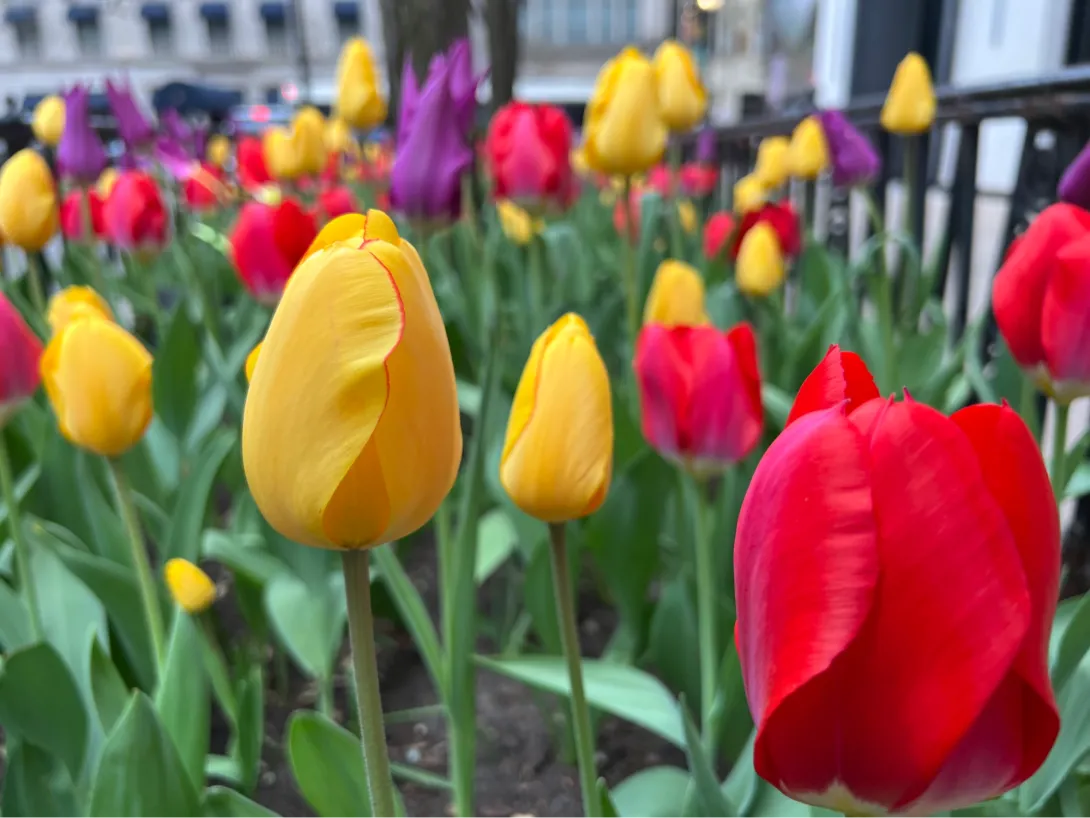 We ended up having a serendipitous dinner after wandering into Geja's Cafe, which is a fondue restaurant that we randomly came by. Afterwards we hit up a couple random bars on our way to Drupal Karaoke, which JD Flynn was once again organizing.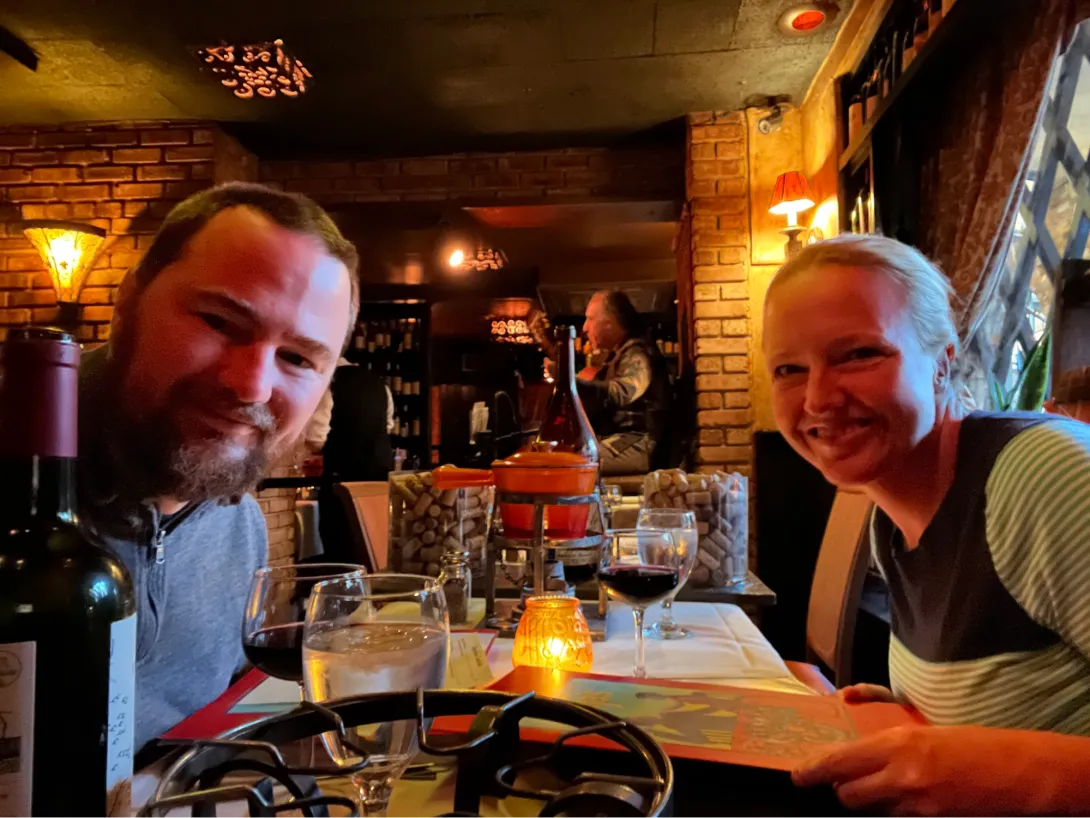 MidCamp ended up overrunning the entire bar, and I performed a rendition of Miley Cyrus' Party in the USA (where I was totally on key and on beat 🙃). Several other Drupallers sang including JD, April, Chris Weber, Wes Ruvalcaba, and Allan Chappell. I managed to talk Robin into going up on stage to sing It Takes Two by Rob Base, which was pretty epic. We both had a fantastic time and ended up getting back to our hotel around 2:30am.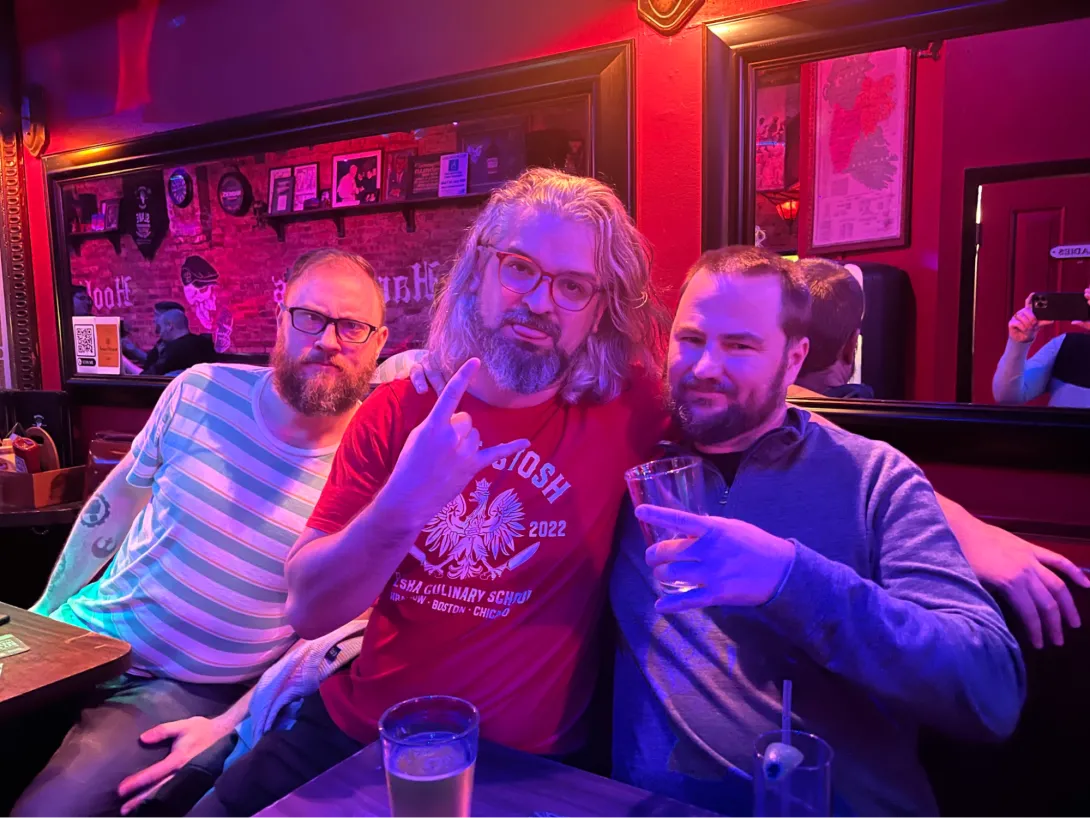 Doing touristy things in Chicago
Although the weather was almost perfect, Friday was pretty rough for both Robin and I after a late night of karaoke. We slept in, and took it easy for the most part, and watched the latest episode of Ted Lasso. We did end up going downtown to the "Magnificent Mile" area of Chicago (this is where most of the skyscrapers are) to look around and do touristy stuff including seeing the world famous "Bean" sculpture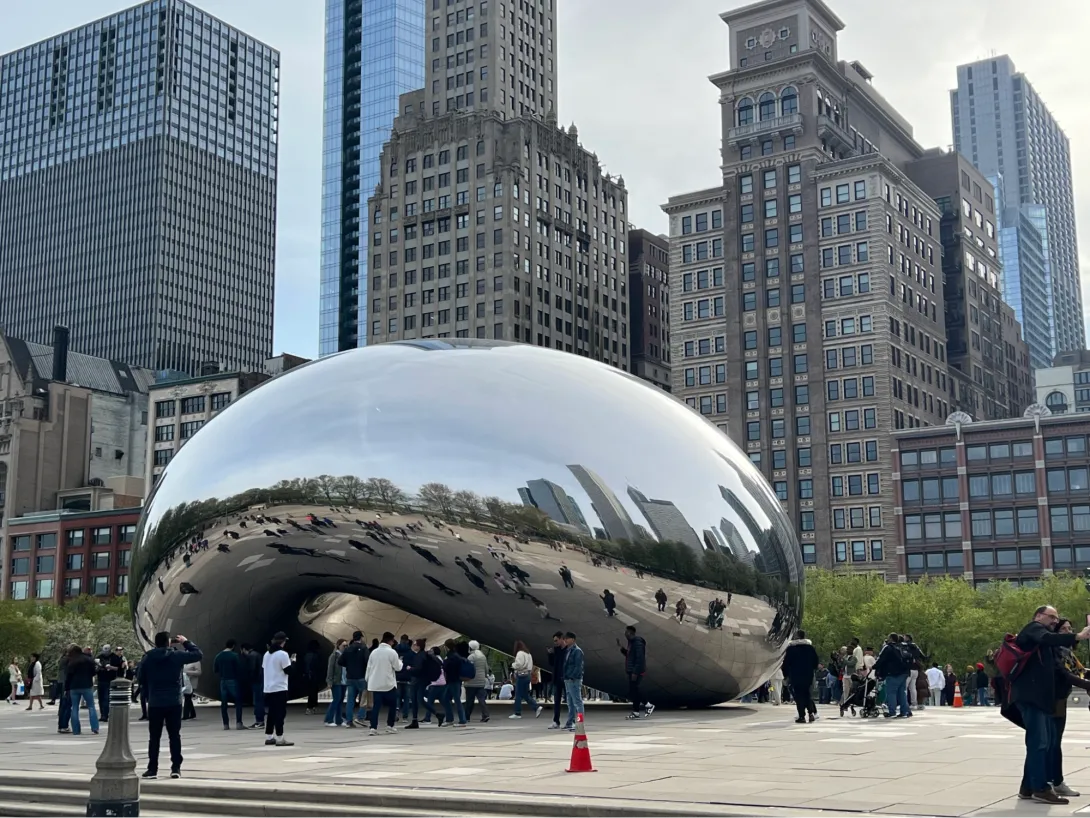 Saturday had rain on the schedule, so we woke a bit early to head downtown to do an "architecture tour" of Chicago via boat. This was super informative as the boat goes up and down the Chicago River, and the guide points out the various buildings, architecture types, histories, etc.
Image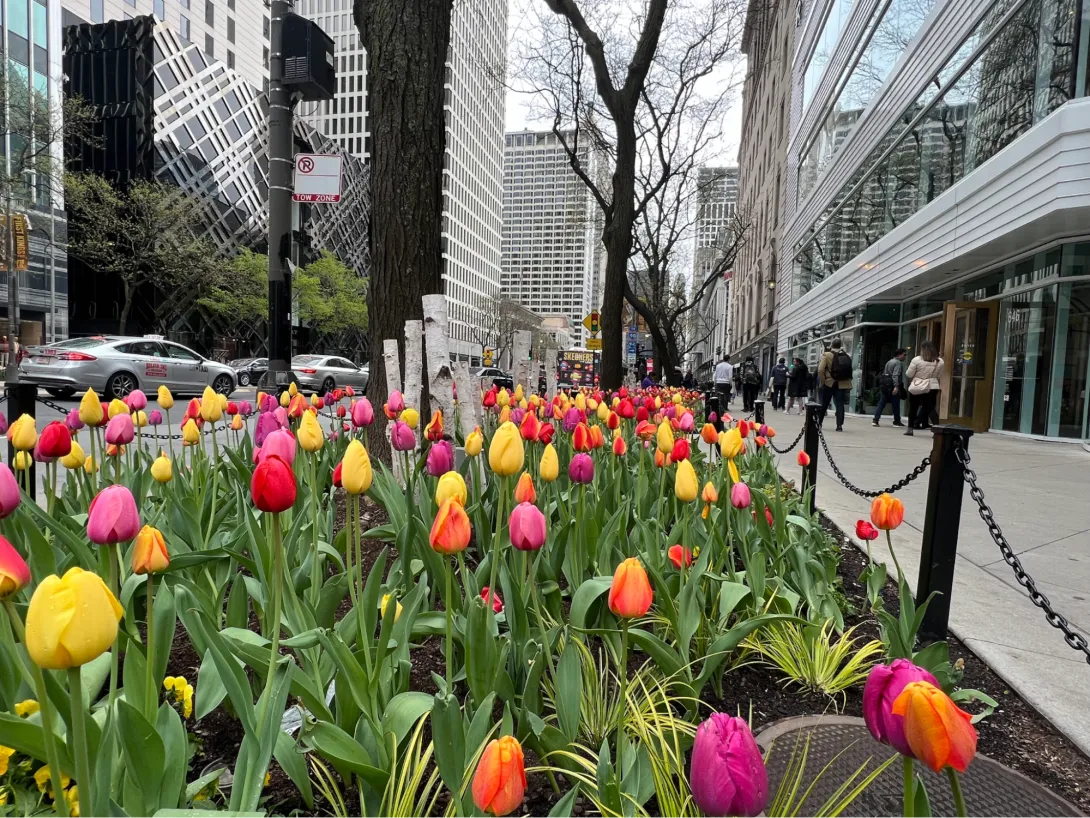 After the rain hit, we headed back to our hotel for some relaxation. We had reservations at a fancy Mediterranean restaurant, so we wanted time to prepare, etc. The restaurant is "Aba" and is located in the hip "Fulton Market" area of Chicago.
We arrived at Fulton Market early. It has a number of trendy restaurants and bars, so we ended up hitting up a cocktail bar (Lyra) and got started with some of the fanciest cocktails imaginable.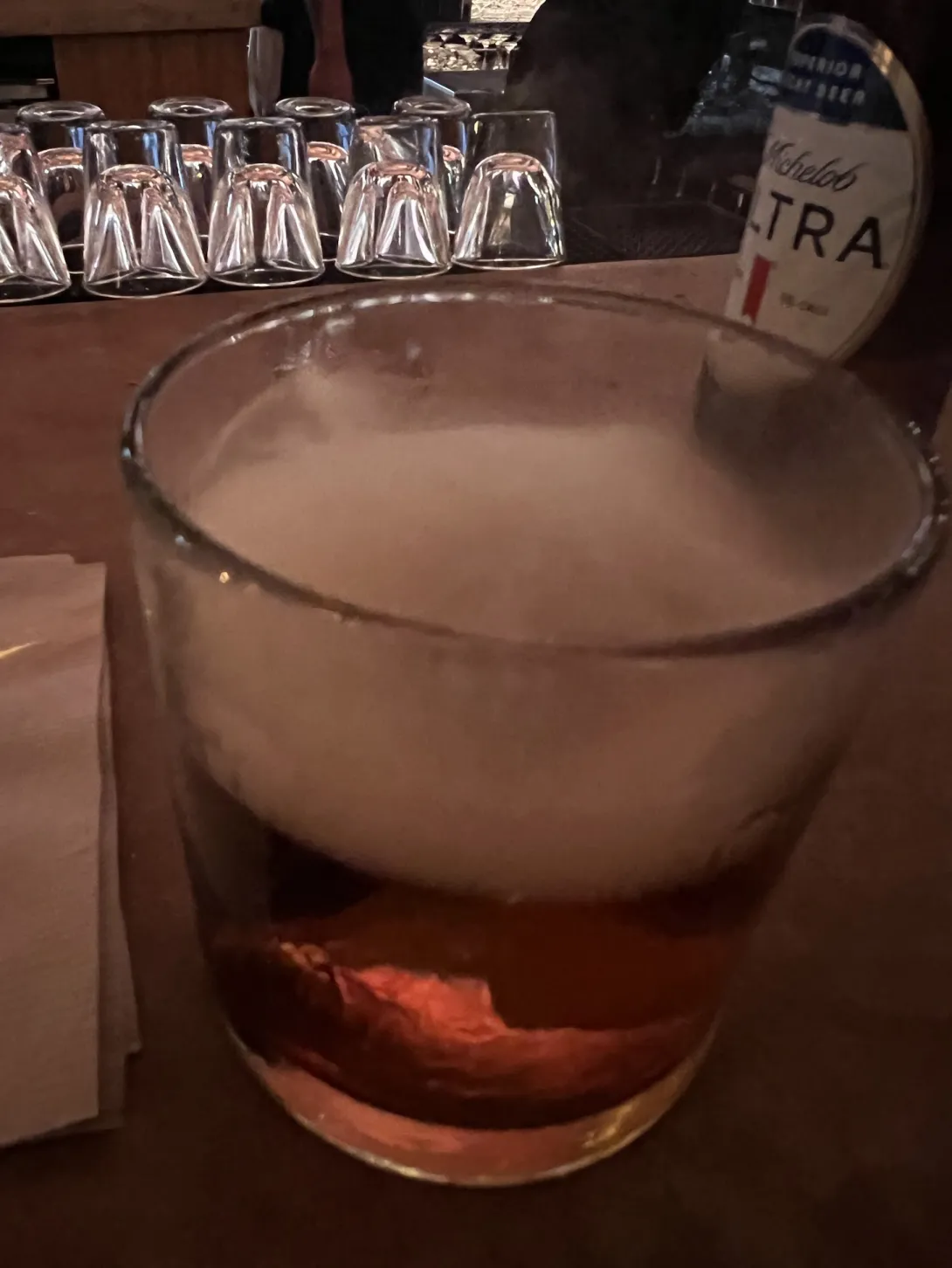 We headed over to Aba and enjoyed one of the best dining experiences that I've ever had. With our reservation, we had prepaid for a multi-course meal. The first course was some Mediterranean spreads on amazingly soft pita bread. We chose one of the two spreads (based on our friend's recommendation), and let the server select the other. We continued letting the server choose the best items throughout the evening as we stuffed ourselves with salmon, tuna, short ribs, and dessert. Each course was amazing and surprising in its own way.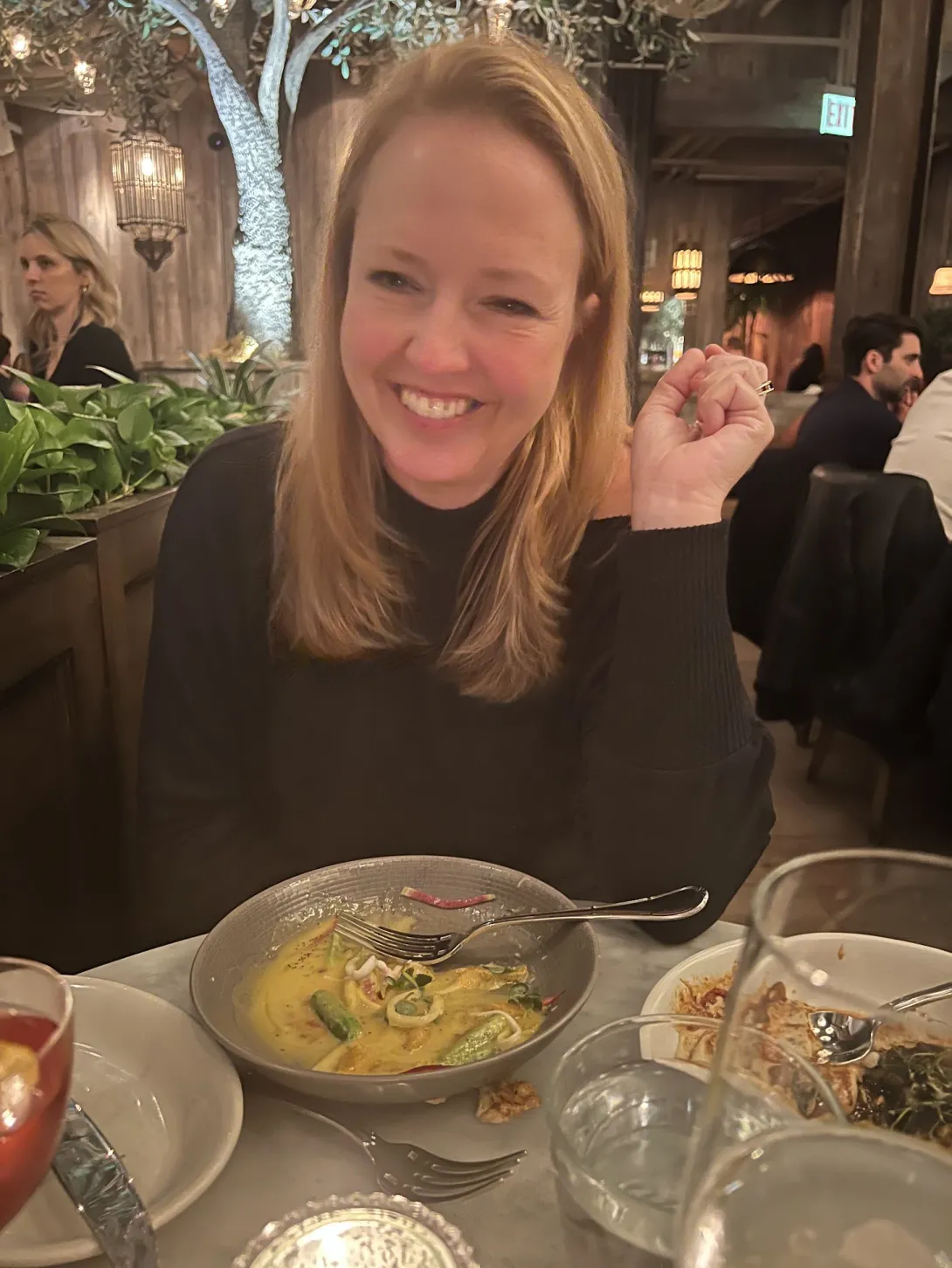 After dinner, we meandered back to our hotel to get a decent night's sleep before our flights home the next morning.
Wrapping up
I had so much fun at MidCamp, and will definitely be back! Chicago tends to get a bad rap in the media, but my experience was quite different. The city was clean, modern, and beautiful (especially the tulips). And there are so many fantastic restaurants that blow anything that Gainesville has out of the water. I can't wait for 2024.